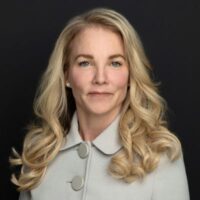 Kerry O'Reilly Wilks
Executive Vice President, TransAlta
Kerry O'Reilly Wilks is the Executive Vice President, Legal, Commercial & External Affairs at TransAlta where her portfolio spans legal, commercial, sustainability, government relations, regulatory, policy, stakeholder engagement, Indigenous affairs, corporate secretarial, governance and trading compliance, across the company's operations in Canada, the United States and Australia.
Prior to joining TransAlta, Kerry was Head of Legal for various portfolios within Vale S.A. globally and a partner with Davies Ward Phillips & Vineberg LLP.
Kerry sits on the Board of St. Michael's Hospital Foundation and is the Founder and Chairperson of Malachy's Soiree in support of the Neo-natal Intensive Care Unit at St. Michael's Hospital.
Kerry has been widely recognized for her professional achievements including being named as one of the Top 40 under 40 lawyers in Canada, an Alumni of Distinction by the University of New Brunswick, a Leading Female Lawyer and Woman of Excellence in Canada, one of the Top 25 Most Influential Lawyers in Canada and a Top General Counsel Thought Leader in North America.