In early August 2023, more than 30 businesses, trade associations, labour organizations, research entities, and other drivers of economic prosperity signed onto this open letter calling for accelerated action towards non-climate-polluting electricity nationwide by 2035.
In a global economy accelerating towards net zero, clean electricity is Canada's greatest investment advantage. With more than one-third of the world's largest publicly traded companies adopting net zero targets—and more joining them every day—businesses are demanding clean electricity for everything from low-carbon steel and fertilizer to mining and electric vehicle batteries with low-carbon footprint.
It's clear that clean electricity is a competitive necessity to attract investment, create good-paying high-skill jobs for workers, and generate projects with Indigenous partnerships and ownership across Canada. Clean electricity is at the heart of our country's prosperity, today and into the future.
Our electricity is already 83% clean, giving Canada a solid head start over our G20 peers. But to remain an attractive destination for investment, we need to double down on building a net zero, reliable and cost-competitive grid. Fortunately, studies show we can achieve this with policies and technologies that are known today.
Clean electricity is not only good for business, it's good for Canadians at home, too. Research reveals that households will spend less on energy bills in a net zero economy, thanks to efficient bill-slashing technologies like electric vehicles and heat pumps.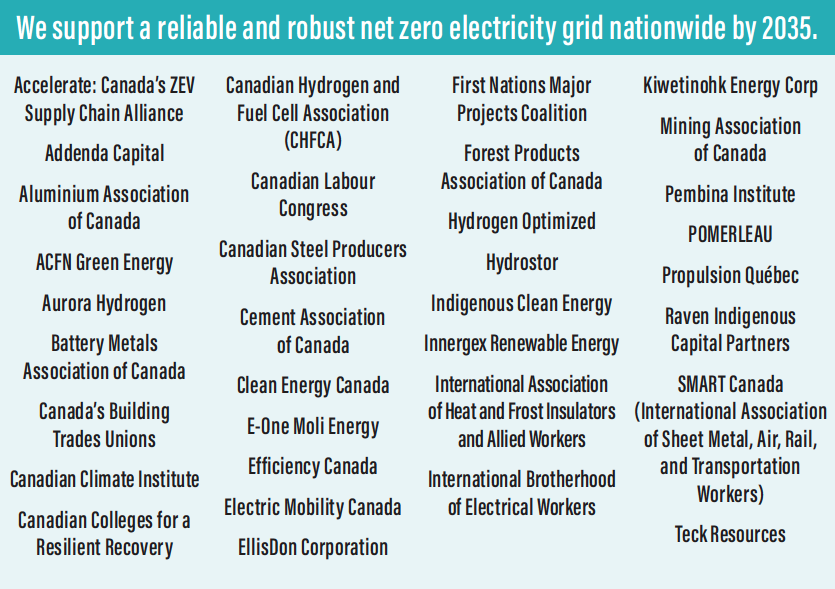 This goal is achievable and technologically feasible. The US is doing the same, and we cannot afford to lose jobs and investment by falling behind. The federal government's 2023 budget provides significant support for building bigger, cleaner and smarter electricity systems across the country, while supporting good-paying jobs. Working together, governments across Canada can take advantage of these incentives to complete their transitions to clean, net zero electricity systems, building stronger communities and economies across the country.
Signed,
Accelerate: Canada's ZEV Supply Chain Alliance
Addenda Capital
Aluminium Association of Canada
ACFN Green Energy
Aurora Hydrogen
Battery Metals Association of Canada
Canada's Building Trades Unions
Canadian Climate Institute
Canadian Colleges for a Resilient Recovery
Canadian Hydrogen and Fuel Cell Association (CHFCA)
Canadian Labour Congress
Canadian Steel Producers Association
Cement Association of Canada
Clean Energy Canada
E-One Moli Energy
Efficiency Canada
Electric Mobility Canada
EllisDon Corporation
First Nations Major Projects Coalition
Forest Products Association of Canada
Hydrogen Optimized
Hydrostor
Indigenous Clean Energy
Innergex Renewable Energy
International Association of Heat and Frost Insulators and Allied Workers
International Brotherhood of Electrical Workers
Kiwetinohk Energy Corp
Mining Association of Canada
Pembina Institute
POMERLEAU
Propulsion Québec
Raven Indigenous Capital Partners
SMART Canada (International Association of Sheet Metal, Air, Rail, and Transportation Workers)
Teck Resources