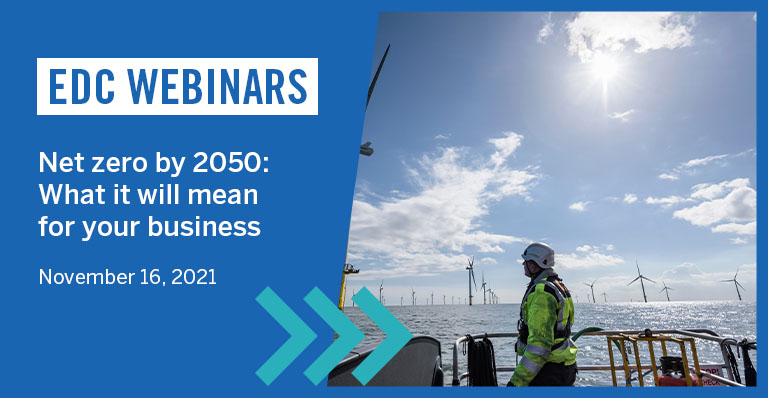 Climate change is taking a toll on our planet and it can no longer be ignored. Canada and other countries are responding by making decarbonization a top priority.
Businesses must now move towards alternative technologies and energy systems that don't produce significant greenhouse gas emissions. This shift will impact every aspect of the global economy—from manufacturing to marketing.
To meet the challenge, you'll need to know how net zero goals will impact your company today, tomorrow and through 2050.
In our new webinar, Net zero by 2050: What it will mean for your business, we'll reveal what net zero means to you as your business grows in a global marketplace increasingly defined by its commitment to decarbonization.
Join us live on Tuesday, Nov. 16, 2021 from 1 to 2 p.m. ET to learn about:
What net zero by 2050 means, and how it could impact your company and customers
What risks and opportunities are associated with a low-carbon future
What you need to know to sell to the European Union and the United Kingdom
What tools and resources are available to help you make the transition
Presented By: Export Development Canada (EDC)
Tue, November 16, 2021 | 1:00 pm – 2:00 pm ET