People from three provinces tell the story.
Heat pumps are a game-changer when it comes to reducing climate pollution from buildings while keeping Canadians safe from extreme heat. They're also the lowest-cost option for heating and cooling most homes in Canada. But their benefits are only starting to be widely known and appreciated.
Here are the stories of three Canadians who have made the switch to heat pumps to heat and cool their homes—why they made the switch, how it's working out, and how much money they've saved.
DENIS BOUCHARD
QUEBEC
Photo credit: Bénédicte Brocard
Denis Bouchard likes to say that thanks to his heat pump, he gets all the fuel his car needs for free.
Bouchard installed a new heating system on his 60-year-old home outside Montreal three years ago. He'd noticed his heating bills were "fairly expensive," and he was keen to replace inefficient electric baseboard heaters and a wood stove he used only occasionally. A few months after that, he purchased his first electric vehicle—a 2019 Chevrolet Bolt.
Bouchard tracks the performance and cost of his home energy use carefully, and he almost always charges his car at home. He has noticed that after racking up more than 100,000 kilometres on the Bolt,there has been little change in his overall electricity use.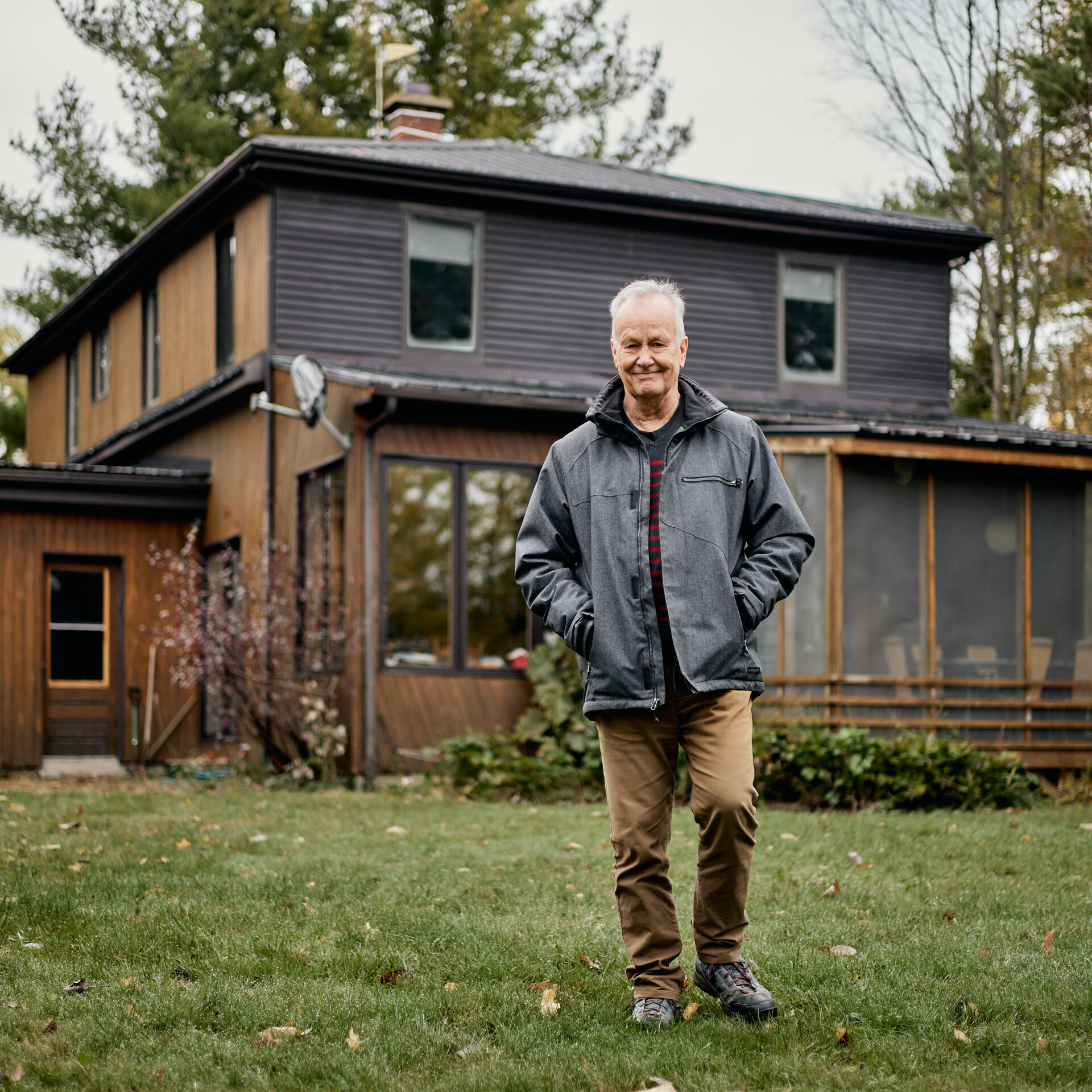 Photo credit: Bénédicte Brocard
"What I save with the heat pump pays for the charge of the car, because my bill has gone up very minimally," Bouchard says. "I'm getting a free charge for my car from the heat pump."
For Bouchard, the decision to switch from the baseboards-only heating system in his rural home to heat pumps was mainly about efficiency. "The electricity from the baseboards was fairly expensive because it's an old house," he says.
As a recent Canadian Climate Institute report found, heat pumps offer efficiency improvements of up to five times that of most current home-heating methods across Canada, producing substantial savings over the life of existing systems. In the Montreal area, where electricity prices are among the lowest in Canada, efficient heat pumps can be a particularly cost-effective option.
In Bouchard's case, he had upgraded the old, inefficient windows on his house many years before. Improving the performance of his home heating system seemed like an obvious next step. His architect daughter and her husband filled him in on the benefits of switching to heat pumps. Still, it was a personal choice, not motivated by sales pitches or policy incentives—though he did take advantage of a $650 rebate on the purchase of the heat pumps offered by Hydro-Quebec.
He describes the process as relatively hassle-free. He shopped around for a local installer and readily found one with a solid track record in heat pump installation. He had an exterior mini-split heat pump installed to feed two internal units—one for each floor of his modest 1,270-square-foot house.
Bouchard knew he was getting a much more efficient system, but its ability to generate heat all through the Quebec winter has impressed him. "I was a bit skeptical," he says. "I didn't expect them to be high-performance all along when the temperature went really low."
He kept his old electric baseboard heaters, anticipating that he would need to make significant use of them in the chilliest depths of winter. But he soon found that even on the coldest days, when temperatures dipped to -25C in the frigid countryside, the heat pumps still churned out sufficient heat for nearly the entire house.
"We hardly use the baseboards," Bouchard says. "When it's very, very cold, we might have one or two that will be working in addition to the heat pumps. It's surprising that even at minus 25, which we've had quite a few times since we've had the heat pumps installed, the heat pumps still run. They still give us some heat. It's amazing."
Bouchard says the ability to run heat pumps as cooling systems in the hottest weeks of the year played a role in convincing him to switch in the first place. As temperatures grew uncomfortably warm during the summer he was considering the switch, especially at night, he decided that the idea of a new heating system that could also provide air conditioning made more sense than ever. "Instead of just getting an air-conditioner," he says, "we decided to pay more and get the heat pump and have it all year round."
The added cooling feature, he suspects, will only prove more valuable in the coming years. "We've used it on average ten, twelve days per summer so far. I'm afraid it's going to get worse than that with climate change."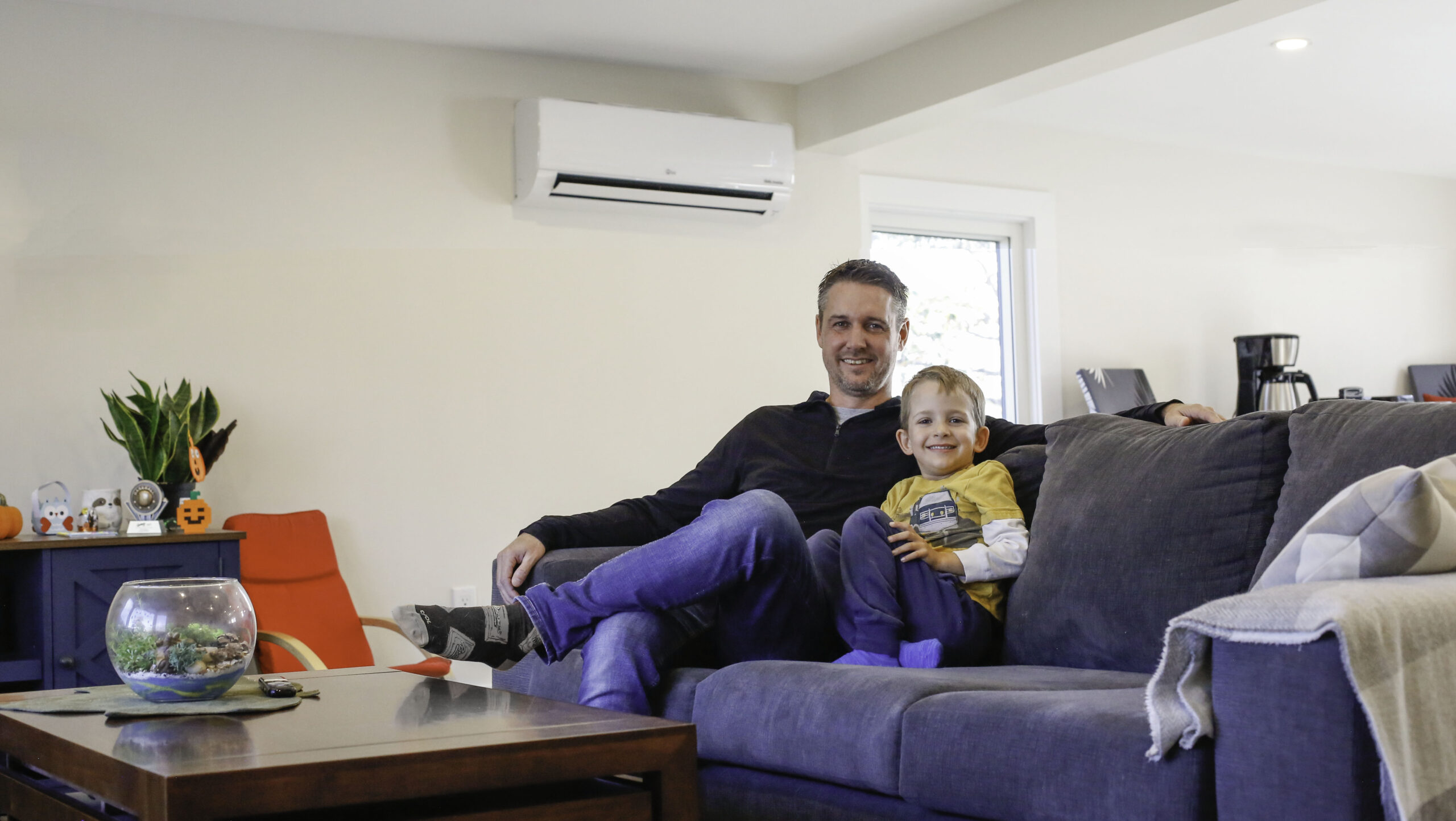 CHRIS EVERETT
NOVA SCOTIA
Photo credit: Aly Ambler
For Chris Everett, switching his home heating to heat pumps has brought many of the benefits he was expecting—and at least a couple he never anticipated.
In the summer of 2022, Everett swapped out forced-air heat from an oil furnace for three mini-split heat pump units. The cost of heating his 1,950-square-foot home in Dartmouth, Nova Scotia, quickly plummeted—down from approximately $5,200 per year with oil and electric baseboards to $3,200 in the first year with the heat pumps, a tidy $2,000-per-year savings.
Saving money, after all, was a primary motivation for making the change. "I needed a better, more economical heat source," Everett says. "It's an older home, so I was looking at what would be efficient for my house, [such as] blowing in insulation in the attic. And heat pumps looked like a good way to go. The air conditioning is kind of nice too."
As the Canadian Climate Institute's heat pump study found, heat pumps offer substantial efficiency and savings improvements in jurisdictions across Canada. And the Halifax area proved especially attractive for this switch, with a heat pump in a single-family home backed up by electric baseboard heat in Halifax providing among the lowest-cost home heating options in the country. This is thanks in part to Halifax's mild maritime climate and the relatively low electricity prices in Nova Scotia.
Everett already had some experience with using the technology—the building at the Ford dealership where he works is heated by mini-split heat pumps.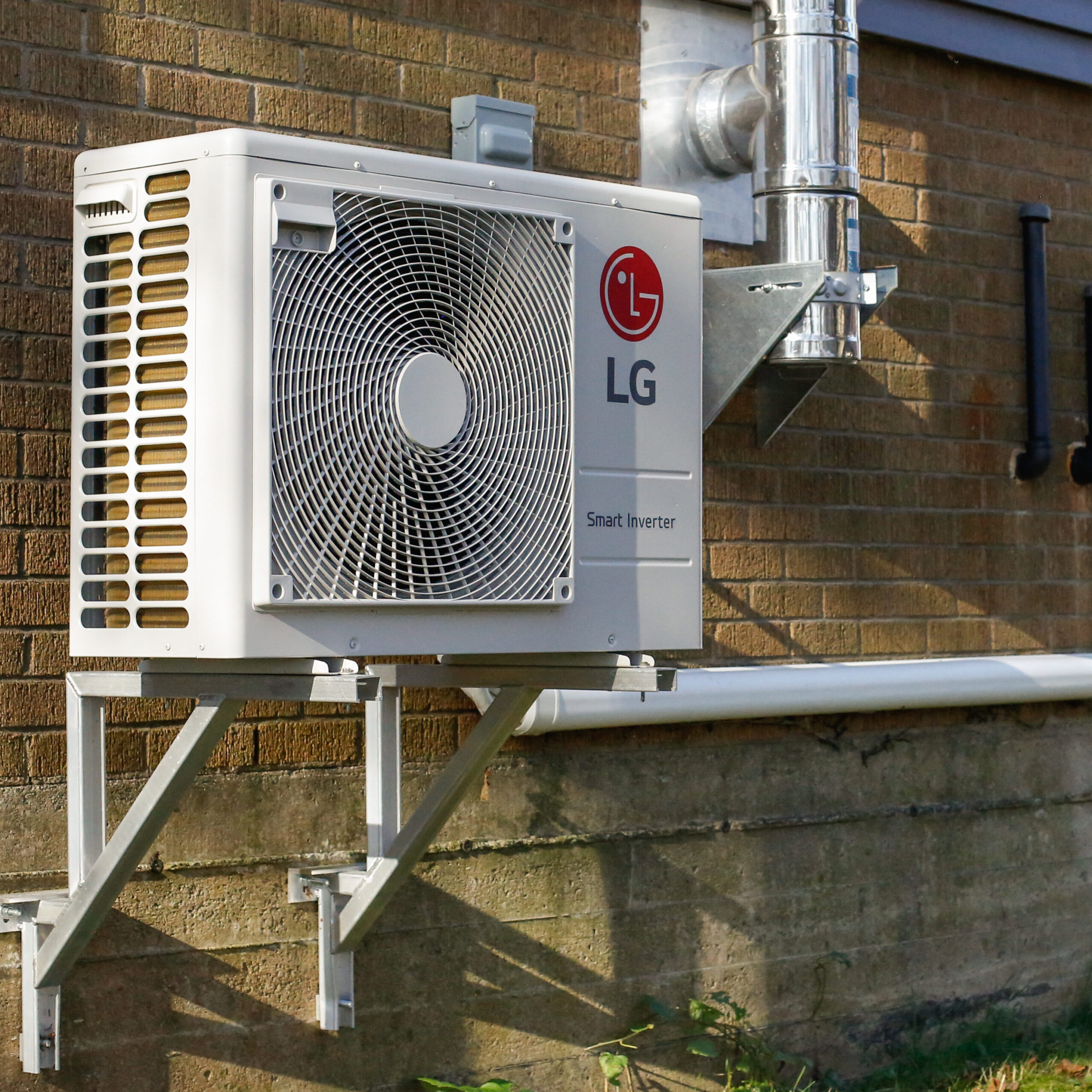 Photo credit: Aly Ambler
"I had some idea of the functionality of it and what it can produce to some degree," he says. The performance in his home, however, was revelatory. "I'm shocked at how much heat they produce."
Aside from a single 36-hour period when the temperature dipped down near -30C in Nova Scotia, he has not needed to rely on his old oil furnace for additional heat.
In fact, one minor downside Everett has encountered is that his basement is often a little too warm, the temperature often hovering at two degrees warmer than the setting on his thermostat.
And about that thermostat: the benefits of having so much more control over the heat in the rest of his house is one of the unanticipated upsides of the new system. Everett has three mini-splits heating his home, one for each level. Using an app on his phone, he can set each one at a different temperature—allowing him, for example, to heat or cool his master bedroom where his dog sleeps during the day while he is at work without wasting energy (and money) on the rest of the house. "The technology is quite amazing," he says.
Another unexpected upside involves the air conditioning function. Prior to installing the heat pumps, Everett says, he used to face a dilemma on hot nights—whether to open the windows to cool the house a bit, or keep them closed against the noise of the helicopter engines from nearby CFB Shearwater. Now, with the "very inexpensive" air cooling from his heat pumps in place, the house stays cool and quiet.
Everett's switch to heat pumps did encounter one major bump—not a technological hurdle but a bureaucratic one. When his installer submitted his application to Efficiency Nova Scotia for the rebate on offer, it turned out one of the three heat pump units was a model not on the approved list, nullifying the entire application. He is still waiting to hear back on whether he can appeal the decision.
"It's frustrating," he says, contrasting it with the approach that auto dealerships, like the one where he works, take with rebates. In the automotive business, purchase rebates on new electric vehicles, for example, are applied at the dealership upon sale, eliminating the need for a post-purchase application process.
The Institute's report on the cost-effectiveness of heat pumps noted persistent barriers for homeowners trying to access rebates. The report's authors recommended that governments make rebate programs more transparent and easier to use, particularly for lower-income households.
Even without the subsidy, though, Everett has no regrets about the switch.
"Just the quality of the house—there's no question it's better," he says. "I would recommend it to anybody."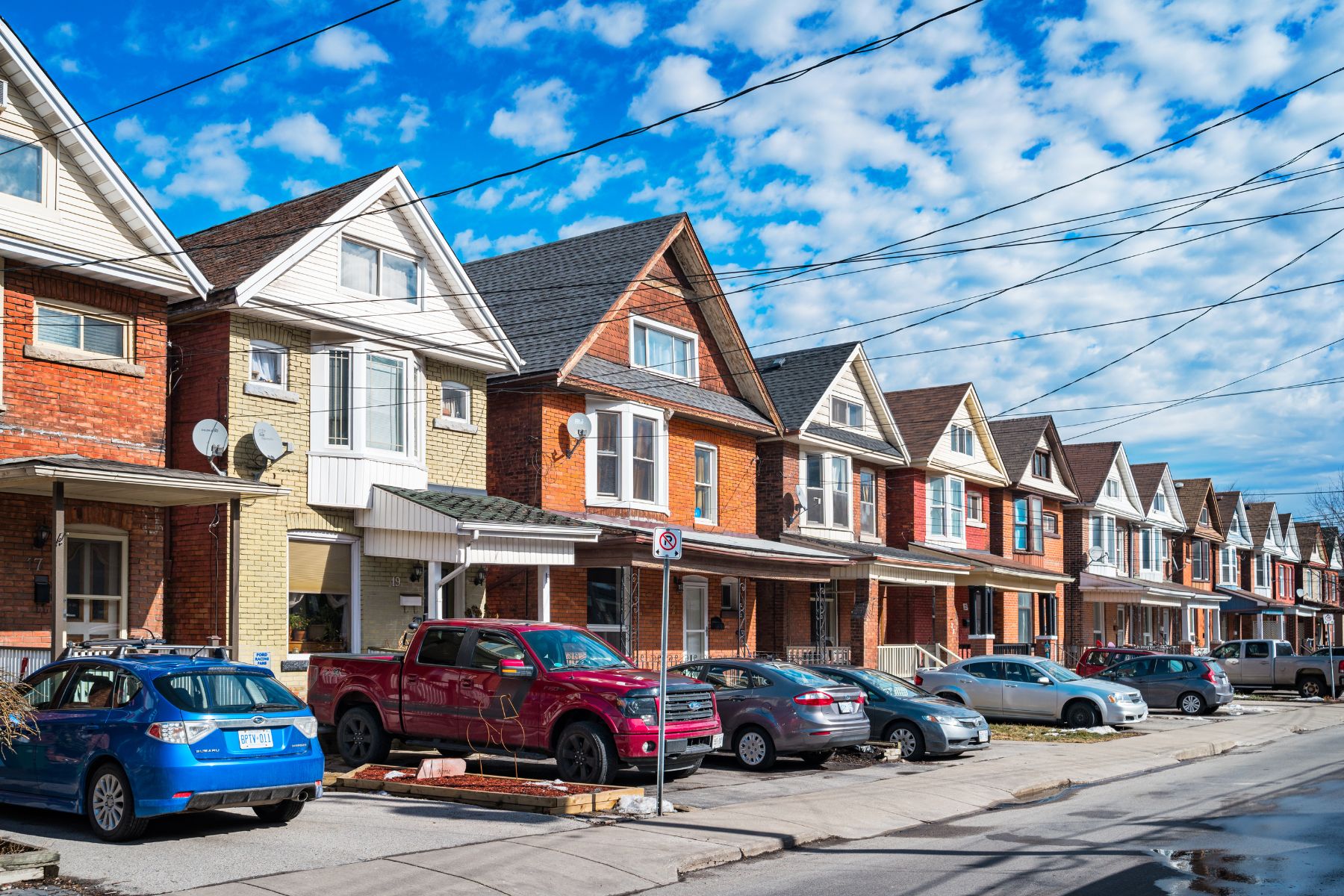 EMMA CUBITT
ONTARIO
Selling heat pump systems is not Emma Cubitt's job, but she's got a solid sales pitch ready to go all the same.
It goes something like this: Let's say you're a homeowner thinking about adding an air conditioning system or replacing an old one—an increasingly common household upgrade where Cubitt lives in southern Ontario, with its hot, steamy summers only growing more intense in the age of climate change. What would you say to spending an extra $1,000 or so upfront, on an appliance that provides not just cooling but also highly efficient heating, all but eliminating your gas bill ever after?
That's pretty much how it worked out for her when she upgraded the system at her century home
in central Hamilton. Cubitt is an architect with a passion for climate-friendly design, and improving the energy efficiency of her proud old brick house had been a priority from the moment she moved in back in 2007. The first and most glaring need was insulation—the house had never seen modern insulation of any kind, just two layers of brick and plaster.
A decade later, she conducted a thorough energy audit and took advantage of Ontario's Home Energy Conservation program to subsidize the installation of state-of-the-art triple-glazed windows.
Next, her eye turned to the basement and its old gas furnace. Even though she worked with heat pumps in her architectural work on commercial buildings, it didn't occur to her right away that a heat pump was the answer. The house is fairly small—just 700 square feet on the two upper floors—so Cubitt was mostly interested in getting rid of the big old gas furnace and water heater to gain back some floor space for a basement suite. She had a high-efficiency combination air handler and gas-fired boiler installed to accomplish that goal.
That's when it struck her that she wanted to upgrade the air-conditioning system. With a little digging, she found that the latest generation of mini-split heat pumps on the market—this was in 2019—cost only about $1,000 more than the air conditioner she was considering. And so a heat pump went in next to the house to augment the combi-boiler.
"They were just coming into the market for residential at the time," Cubitt says. "I'm an architect and I do low-energy buildings, and I should've known better."
Heat pumps, after all, were fast becoming commonplace emissions-cutting tools in the larger buildings she worked on. "That's the norm for us. But for residential, I just didn't even think about it for my own house until a little bit later. I was thinking of efficiency instead of electrification."
Four years later, Cubitt is pleased with her home's progress on the climate-fighting front. She tracks the household greenhouse gas emissions footprint carefully, and the combination of energy-saving retrofits and an additional tenant in the new basement suite has reduced the annual carbon dioxide tally per person from 1.6 to 0.7 tonnes per person. She's happy, as well, to have efficient air conditioning in the hot months in humid Hamilton.
And the heat pump? Well, it hasn't just augmented the combi-boiler—it's taken over. Aside from the coldest few weeks of the year, the home's heating needs are being met by the heat pump alone. And though Cubitt was a bit too soon to the market to take advantage of the new cold-climate models, she points out that if she were making the shift today, she might not need any other heat source at all. "The change in the industry with the cold-climate heat pumps makes all the difference," she says.
As the Canadian Climate Institute's recent report on heat pump use in Canada notes, the new generation of cold-climate heat pumps is proving to be reliable at temperatures as low as -25C, requiring minimal, if any, use of a backup system in most of the country. And though the upfront cost of the cold-climate models is higher, they are likely to become more cost-competitive as the technology evolves and demand grows in the coming year.
Still, Cubitt figures that the approach she took a few years back remains the best gateway to heat pump ownership—which is where her makeshift sales pitch comes in. "Instead of getting a new air conditioner," she says, "just upgrade to the heat pump, and you can use it most of the year." Simple as that.
---
Profile text by Chris Turner. Special thanks to Denis Bouchard, Chris Everett, and Emma Cubitt for sharing their stories with us.