June 10, 2020 | OTTAWA — Long-term climate targets are notoriously difficult to achieve. For that reason, many governments have set legally-binding short-term milestones and adopted formal accountability measures to help clarify pathways and progress toward those far-off goals.
Various Canadian governments are putting similar measures in place to support Canada's goal of achieving net-zero emissions by 2050. New analysis published today by the Canadian Climate Institute identifies common elements and best practices for implementing interim climate milestones within a national accountability framework. 
Accountability frameworks have multiple benefits. They bring more clarity about policy pathways for businesses planning into the future. They link the ambition of targets with the stringency of policies. And for Canada, they offer a transparent way to work through the challenges—and opportunities—of climate policy in a federation.
Such frameworks break far-off emissions reduction targets into interim milestones, based on the advice of independent experts, and establish clear governance structures and processes to link milestones to policy actions. This approach holds governments to account for policy implementation by requiring regular and transparent assessments, progress reports, and action plans to meet targets, or course-correct when necessary.
While B.C. and Manitoba have climate accountability laws, Canada has not yet adopted a federal climate accountability framework to support achieving its goal of net-zero emissions by 2050. The 2019 mandate letter for the Minister of Environment and Climate Change commits to setting legally-binding, five-year emissions-reduction milestones based on the advice of experts and consultations with Canadians.
The Institute's analysis outlines recommendations based on experience with climate accountability legislation in the United Kingdom, Aotearoa/New Zealand, and other jurisdictions. The Institute also identifies unique Canadian considerations policy makers must address—such as ensuring Indigenous governance, rights and reconciliation are reflected in the development of the legislation, and how to navigate potential conflicts within the federation over each jurisdiction's contribution to achieving national milestones.
Polling indicates most Canadians are in favour of Canada's efforts to reduce emissions, and expect provinces and territories to contribute to those efforts. A poll conducted by Environics Research on behalf of the Institute in late March and early April 2020, at the outset of the COVID-19 pandemic, found that 76 per cent of Canadians support Canada's goal to achieve net-zero emissions. Seven in 10 Canadians support the idea of both the federal and provincial/territorial governments adopting short-term "carbon budgets" to help achieve net-zero, and want governments to work together to determine each jurisdiction's responsibility for reducing emissions.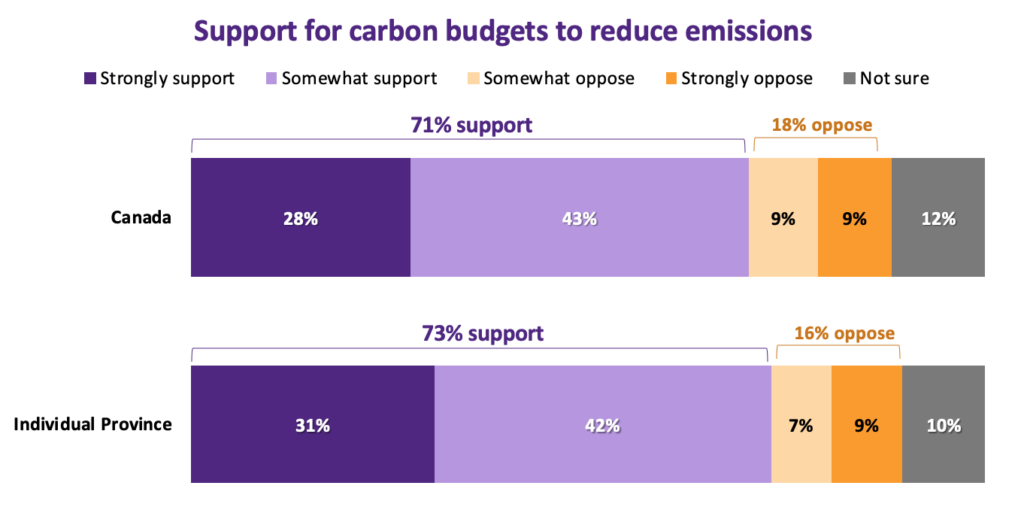 The Institute's analysis finds that climate accountability frameworks are not a silver bullet; nor are they a substitute for policy. While they can create the conditions for coherent policy that's consistent with long-term goals, like any law, they could be repealed by future governments. They also do not provide a mechanism for one level of government to legally bind another to act. Despite these limitations, international experience shows how legislating interim milestones and governance can promote a clearer and more collaborative approach for governments to work together to achieve long-term climate commitments.
QUOTES
"Governments everywhere struggle to adopt policies strong enough to achieve far-off climate goals—and each delay makes achieving those goals more costly. By working with provinces, territories and Indigenous governments to develop binding interim milestones and a national framework on climate accountability, Canada has an opportunity to take a more practical and productive approach that results in measurable progress toward long-term goals."
— Jason Dion, Mitigation Director, Canadian Climate Institute 
"Businesses and investors face significant risk given the uncertainty about Canada's long-term policy trajectory from one government to the next. By collaboratively setting short-term milestones and the rules of the game as governments collectively work to meet those goals, a national climate accountability framework would reduce uncertainty and make it far easier for the private sector to both contribute to climate change solutions and capitalize on the opportunities ahead."
— Kathy Bardswick, President, Canadian Climate Institute 
RESOURCES
CONTACT
Catharine Tunnacliffe
(416) 527-1777