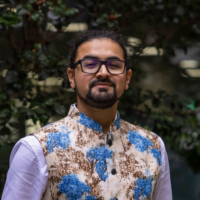 Akshat Rathi is a London-based senior reporter for Bloomberg News. He has a PhD in organic chemistry from the University of Oxford, and a BTech in chemical engineering from the Institute of Chemical Technology in Mumbai.
He tells stories of the people and their ideas tackling the biggest problem facing humanity: climate change. He has edited a book of essays from young climate leaders and he is currently working on a book about scaling up climate solutions.
Previously, Mr. Rathi was a senior reporter at Quartz and a science editor at The Conversation. He has also worked for The Economist and the Royal Society of Chemistry. His writings have been published in Nature, The Hindu, The Guardian, Ars Technica, and Chemistry World, among others.
Mr. Rathi has won fellowships from Columbia University and City University of New York to enhance his reporting work. He has also served on the advisory panel of the 2019 Cairncross Review on the sustainability of high-quality journalism in the UK.