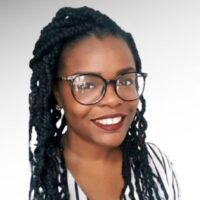 Jennifer Lerus-Roulez
Senior Engagement Specialist
Ottawa, ON
Jennifer is an enthusiastic climate communicator with a background in international development. She grew up between Paris and the Caribbean, where she discovered her fervor for dismantling systemic racism. She's also a dedicated advocate for gender equality, human rights, and environmental protection.
Prior to joining the Canadian Climate Institute Jennifer worked in a variety of nonprofits in Canada and the UK. She brings over a decade of experience in strategic planning, event management, community engagement and communications.
A keen traveller, she speaks fluent French, English and Creole, she's proficient in Spanish and is learning Japanese and Portuguese. In her free time, Jennifer likes to stay active hiking, kayaking and cycling. She also loves being creative and paints, writes fiction and makes ceramic art.