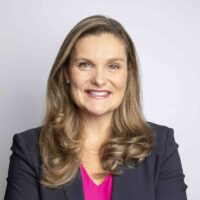 Lindsay Patrick is Managing Director and Head of Strategic Initiatives and ESG at RBC Capital Markets. She leads the Sustainable Finance Group, and with her team, spearheads the provision of solutions and advice for RBC's institutional and corporate clients across all areas of sustainable finance that incorporates both environmental and social perspectives. Lindsay is also responsible for the advancement of the RBC Capital Markets' business strategy, supporting the firm's growth and performance ambitions.
Lindsay has two decades experience in investment banking, spanning trading floors across North America, Europe, Australia and Asia. She began her career with RBC Capital Markets in investment banking in Toronto, followed by 10-years overseas with a global bank in London across Global Equities and Equity Derivatives. Returning to Toronto, she rejoined RBC Capital Markets in 2016 as the Global ETF Strategist before launching the Sustainable Finance Group.
Lindsay is active within RBC and the industry in advancing important initiatives related to Diversity and Inclusion. In addition, Lindsay represents Capital Markets across a variety of enterprise forums including the Climate Strategy Steering Committee. Lindsay received her MBA with Honours in Finance from The Wharton School at the University of Pennsylvania, her BBA with Honours in International Business from Bishop's University, is a CFA Charterholder and recently received the CFA Certificate in ESG Investing. She is a member of the Board of Directors of the Oakville Community Foundation and is an active volunteer within her local community. Lindsay married and is the proud mother of four boys.