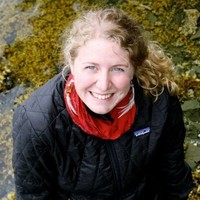 Maria Shallard
Senior Advisor, Indigenous Partnerships and Research
K'ómoks, Comox BC
Maria (she/they) was raised on Líl̓wat territory in Pemberton (Mt. Currie), BC. Her family is a mix of settler European ancestry and she has ancestral ties to Penelakut through her grandfather. Maria comes to this work knowing that learning and unlearning will take a lifetime. She strives to support processes that uplift Indigenous leadership and foster change which supports Indigenous sovereignty in a good way.
Maria has over a decade of professional experience in programming, engagement, project management, human resources, evaluation, and communications, supporting Indigenous self determination, justice, equity and inclusion. As a Senior Advisor, she works to create, support and lead more opportunities for Indigenous led climate research. Currently focusing on clean energy, her range of past work for BC Public Service, Indigenous organizations and post secondary included empowering youth, research in health and well-being, social-ecological resilience, as well as land based and educational programming.
Maria holds a Masters in Geography from the University of Guelph. Her studies specialized on ocean governance, resource management and Indigenous self-determination, supported as a part of the Hakai Network for Coastal People, Ecosystems and Management. She holds a Bachelor of Arts from the University of Victoria with a double major in Environmental studies and Canadian history, with a minor in Indigenous studies. She is passionate about food and disability justice, water security, and creating sound climate policy that supports collective wellness for future generations.In her spare time she is actively involved in restoration, seed saving, species revitalization and is often out on the land and waters, grateful to live on unceded K'ómoks territory.