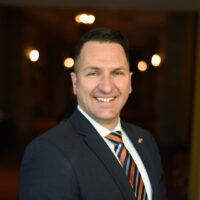 Matt Wayland
Niagara-on-the-Lake, ON
Matt Wayland is the Executive Assistant to the International Vice President and Canadian Director of Government Relations for the International Brotherhood of Electrical Workers (IBEW) Canada. The IBEW is the world's longest standing and largest electrical union, with a total membership over 775,000 and almost 70,000 members in Canada from coast to coast to coast.
In 2018, Mr. Wayland was appointed by Canada's federal Minister of Environment and Climate Change to the Task Force on Just Transition for Canadian Coal Power Workers and Communities.
Mr. Wayland attended the 2018 United Nations Climate Change Conference (COP24) in Katowice, Poland to speak about his experience on the Just Transition Task Force and provide insight to others in attendance.
In 2019, Mr. Wayland was appointed by the Prime Minister as one of three Co-Chairs for the Ministerial Advisory Committee on a National Campaign to Promote the Skilled Trades as a First Choice Career for Young People.
He was recently appointed to the Canadian Council of The Duke of Edinburgh's Commonwealth Study Conference, which brings together leaders in business, government and labour from around the globe.
Mr. Wayland is a licensed red-seal electrician and has been a proud member of the IBEW since 2001.