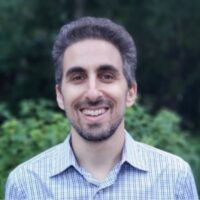 Michael Bernstein
Executive Director, Clean Prosperity
Michael Bernstein is the executive director of Clean Prosperity, a Canadian non-profit that works toward practical climate solutions that reduce emissions and grow the economy.
Michael is also the chair of the advisory board for Carbon Removal Canada, a policy non-profit that works to grow the carbon dioxide removal sector in Canada. In 2023, Michael was appointed to the Canadian government's Net-Zero Advisory Body. In addition, Michael is vice-chair of Canada's Carbon Competitiveness Commission, and was the co-chair of the Carbon Management Working Group at the Public Policy Forum from 2020-2022.
Michael is an economist by training. He is an advisor to elected leaders across the political spectrum, and a frequent commentator on climate policy. He was named on The Hill Times' Top 100 Lobbyists List for 2021. He was also selected as a Clean50 Honouree in 2023 for his work advancing Canadian climate policy.
Michael joined Clean Prosperity in 2018. His career has spanned business, management consulting, international development, and politics.
Prior to Clean Prosperity, Michael was the CEO of Mama Earth Organics, a small business that delivered organic produce from local farms to families around the Greater Toronto Area. He worked directly with dozens of farmers and saw first-hand the effects climate change was having on the farms he worked with. As a father of two young kids, he's also very concerned about the future that we're leaving to the next generation.
Before working in the local food sector, Michael was a business management consultant at McKinsey & Company, where he advised Fortune 500 companies, institutional investors, and governments on key strategic and business issues. He also worked with InvestEco Capital to set up an advisory service that offered support to companies in the sustainable food sector.
Michael holds a Master's in Public Administration from the Harvard University Kennedy School of Government, and a B.A. in Economics from Yale University.
When he's not working on climate change, you can find him building Lego airplanes with his kids or doing his best karaoke impression of Vanilla Ice.