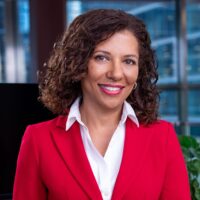 Sandra Odendahl
Toronto, ON
Sandra Odendahl is Senior Vice President & Head of Sustainability and Diversity at the Business Development Bank of Canada (BDC) where she leads all facets of the bank's sustainability and ESG strategy and programs.
She previously was Vice-President of Social Impact and Sustainability at Scotiabank, joining the bank in November 2019 with almost 25 years of experience in environmental science, corporate sustainability, and responsible finance.  At Scotiabank, Ms. Odendahl led the team responsible for corporate sustainability, global donations, employee engagement, and ESG reporting. She also served on the bank's Global Inclusion Council and co-chairs the Control Functions Diversity and Inclusion Committee.   
Before joining Scotiabank, Ms. Odendahl was President and CEO of Carbon Management Canada, a Calgary-based environmental company helping clients develop and scale up innovative carbon management technologies and strategies. Previously, she held several roles at the Royal Bank of Canada, including leading Corporate Sustainability, Social Finance and Environmental Risk Management. 
Ms. Odendahl is active in her community and is on several non-profit boards and advisory panels. In addition to serving as a Board Director and Audit Committee Chair of the Canadian Climate Institute, she also serves as a Board Director for the Transition Accelerator and NEXT Canada.  
Ms. Odendahl has a Master's degree in chemical engineering from the University of Toronto, and a Bachelor's degree in chemical engineering, with a Certificate in Management, from the University of Ottawa. She is a licensed professional engineer (P.Eng) and Chartered Financial Analyst (CFA) charter holder. Ms. Odendahl lives with her husband and two children in Toronto.