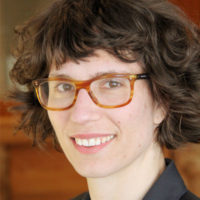 Sara Hastings-Simon
Clean Growth Chair
Calgary, AB
Sara Hastings-Simon is a Research Fellow at the University of Calgary. Her research is focused on low carbon energy transitions at the intersection of policy, business and technology. Dr. Hastings-Simon was previously Senior Fellow at the Pembina Institute where she founded the Business Renewables Centre Canada, a modern marketplace where corporations and institutions can learn how to buy renewable energy directly from developers.
Dr. Hastings-Simon has expertise in emissions reduction policy, electricity grids and markets, and clean tech innovation. She has worked with governments (provincial and national), utilities, renewable energy developers, financial institutions, and oil and gas companies. Her work has included research on innovation, the cleantech industry, modelling of the North American power sector, and development of international and domestic policy for climate change and emissions reduction.
She sits on the board of Emissions Reduction Alberta and was a member of the Alberta Clean Technology Task Force. Prior to joining the Pembina Institute, she was the manager of the cleantech practice at McKinsey & Company, a global management consulting firm. She holds a Ph.D. in physics from the University of Geneva.