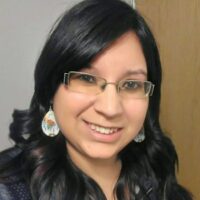 Shianne McKay
Brandon, MB
Shianne McKay is a Senior Project Manager at the Centre for Indigenous Environmental Resources (CIER). She has 14 years of experience in the Environmental Conservation Sciences field and has spent more than 13 years working directly with First Nations communities. She is Ojibway and a member of the Pine Creek First Nation in Manitoba.
At CIER, Ms. McKay has worked on a number of climate change initiatives. She assisted in editing of Managing the Risks of Climate Change: A Guide for Arctic and Northern Communities. She has also contributed to the development of the Indigenous Climate Change Adaptation Planning Guidance Document, and organized and co-facilitated a National Indigenous Community Based Climate Monitoring Symposium. She also managed the Networks of Networks Phase 2 project, which recently launched The Hydro-Climatic Monitoring Roadmap: A guide to enabling hydro-climatic monitoring in Indigenous communities in partnership with ESSA, Matawa First Nations and Dehcho First Nations.
Ms. McKay holds a B.Sc. in Environmental and Conservation Sciences with a major in Conservation Biology from the University of Alberta as well as a certificate in Indigenous Women in Community Leadership from the Coady International Institute at St. Francis Xavier University.