What's good for Alberta's oil and gas sector is typically seen as bad for climate change goals. But that may not be so in the current environment, where thousands of oil and gas workers have been laid off and the prospect of returning to boomtimes seems unlikely. Investing in "clean growth" today could help oil and gas workers put their skills to use while planting the seeds for a more sustainable and diversified economic recovery and Alberta's longer-term prosperity.
Oil and gas workers have been hit hard, but they have skills
Alberta's oil and gas sector has taken two punches to the gut this year, with an unprecedented oil price collapse and reduced oil demand resulting from the pandemic-driven slowdown. Between January and April of 2020 over 5,000 workers directly or indirectly employed by Alberta's mining, quarrying, and oil and gas extraction sector were permanently laid off. In the same period in 2019, only 717 people were laid off.
The recent layoffs cap a longer-term trend, however, which has seen overall oil and gas and mining employment shrink from a high of 133,000 workers in 2014 to just over 124,000 workers in April 2020. Support activities for oil and gas and mining have been hit hardest. These are often companies or workers that operate on contract, undertaking activities relating to exploration and new wells.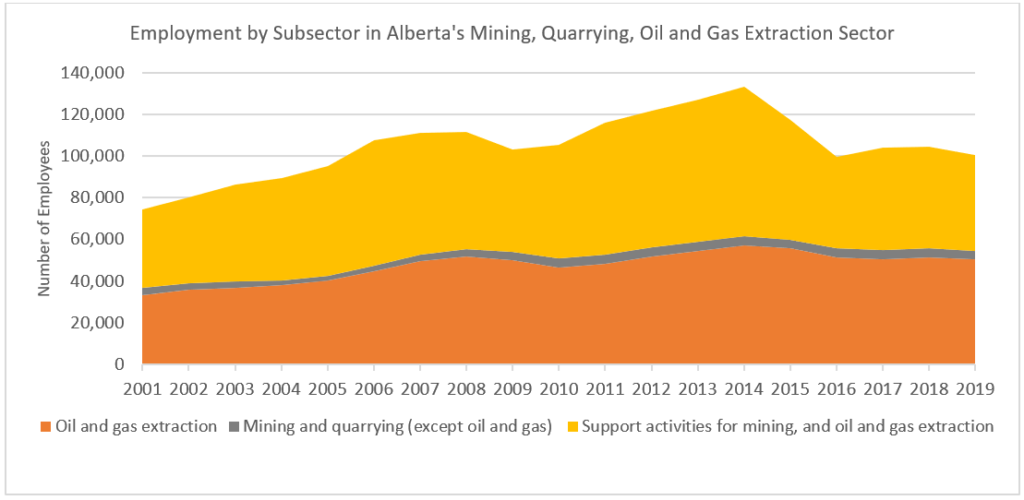 Source: Statistics Canada (2020), Table 14-10-0202-01, Annual employment by industry
Laid off workers tend to be young, educated, skilled, and experienced. Of 5,283 workers permanently laid off in the first four months of 2020, 58 per cent were under 40 years old. Over half of them had a post-secondary certificate or diploma. Around 40 per cent were in technical occupations, and 24 per cent were in skilled trades. Almost half had held their job for at least five years.
The prospect of getting back to their previous jobs, however, is slim. Challenges are expected to continue over the next year, and potentially beyond. The IEA anticipates a one-third drop in global oil and gas investment in 2020. Overcapacity in refining, petrochemicals and liquefied natural gas is likely to delay investment plans in those sectors as well. There are glimmers of hope in natural gas, but potential gains are likely not enough to offset employment losses.
New prospects for skilled workers to get back to work
Geothermal, lithium, and hydrogen production requires many of the same skills as oil and gas production. Existing or abandoned oil and gas wells may also offer low-cost opportunities to tap into these resources. The hottest, deepest wells could be suitable for geothermal. Wells with more wastewater than oil may be best for lithium. And the emerging technical capacity to convert existing wells to hydrogen production offers the potential for cheap, clean fuel for trucking and industry.
Alberta also has significant solar and wind potential. Earlier this year, a Danish company invested $500 million in what will be Canada's largest solar project, near the village of Lomond in southern Alberta. There is also an opportunity to turn orphan and abandoned wells into new solar sites, given pre-existing road and electricity access. Wind is now cost-competitive with natural gas, providing a promising opportunity to reduce the emissions intensity of Alberta's electricity system. Energy storage could unlock even greater wind and solar production opportunities. Organizations like Iron & Earth are working to help former oil and gas workers transition their skills into these renewable energy opportunities.
There is also an emerging clean technology sector in Alberta that is helping to reduce the environmental impact of oil and gas activities. If Alberta's oil and gas sector is going to compete for limited global investment dollars in the future, it needs to be as low-cost, low-carbon, and environmentally friendly as possible. Alberta's clean tech companies are helping it get there, offering products that improve extraction and energy efficiency, reduce facility or process emissions, reduce water use, facilitate clean-up, and help improve environmental monitoring.
Oil and gas companies themselves may be able to capture opportunities in these areas, helping to diversify their own product lines to hedge against future economic shocks. Recent interest in producing carbon fibres from bitumen or aviation fuel from biomass shows that some in the sector are already thinking along these lines. Federal funding to support methane emission reductions could also help companies retain employees.
Governments can kick-start these opportunities, while building longer term policy frameworks
Alberta accounted for 37 per cent of Canada's greenhouse gas emissions in 2018. Canada cannot achieve its climate goals without helping Alberta find lower-carbon growth and employment opportunities. It is therefore in the national public interest to help these new opportunities develop and flourish—and it could help provide critically-needed employment in a time of crisis.
Clean growth opportunities in Canada are often stifled by a combination of risk aversion, weak domestic technology adoption, policy uncertainty, and competition for scarce capital. Governments can help overcome these barriers by partially financing commercial-scale demonstration projects and boosting demand through targeted procurement or policies that accelerate technology adoption. These efforts are already happening across different levels of government and various organizations that support companies at all stages of development. The question is more one of increasing scale, accelerating technology pathways, and focusing on areas where there is a comparative advantage due to skill sets, resource potential, or cost.
The conditions are in place for Alberta to succeed in cultivating clean growth opportunities. It might just need some thoughtful tending to get the seeds being planted today to germinate.
Melissa Felder and Asa Motha-Pollock work for MaRS Data Catalyst.