Joe Biden's climate plan is a departure from previous incremental or gradual approaches to climate policy in the US. It promises accelerated, large-scale action to reduce emissions, drive clean growth, and address pollution and climate impacts in vulnerable communities.
While Biden may face challenges in fully implementing his plan with a Republican Senate, there is little doubt that our largest trading partner will expand and accelerate climate policy. How far and how fast it goes could have big implications for Canada.
The ground has shifted
Canada has a choice to be reactive or proactive in responding to U.S. policy change. It can wait and see how implementation plays out south of the border. Or governments and businesses can act swiftly to help Canadians capture opportunities and avoid risks. They can do this by trying to keep pace with U.S. policy, in order to avoid trade measures, secure access to lucrative markets, and stay competitive in the global clean technology race.
Biden's approach to jobs and justice may also be a low-carbon transition model worth borrowing. It cleverly addresses jobs concerns while simultaneously recognizing the disproportionate burden of pollution and climate change borne by low-income households and racialized communities.
Of course, there may be opposition and resistance to policy change, but U.S. polls indicate broad public support for strong climate change action. Businesses are also increasingly pushing for climate action, and recent analyses show the transition is technically feasible and can be done at minimal economic cost. Ambitious climate policy efforts may get a lot less resistance than they have in the past.
Energy-transition is coming faster than expected
Joe Biden has promised quick and aggressive action to bring the U.S. back into global efforts to address climate change. He committed to legislated milestone targets to reach net-zero emissions by 2050 and to achieve 100 per cent clean electricity by 2035. Even if the U.S. only gets partway through state and regulatory action, when combined with recent announcements from China, Japan, and South Korea aiming to achieve net-zero emissions targets by mid-Century, the global energy transition is kicking into high gear.
Countries responsible for well over half of global greenhouse gas emissions would be committed to net zero emission targets, including the world's two biggest emitters—the U.S. and China. The U.S., China, the E.U., Japan and South Africa alone account for 48% of global oil demand, and 42% of global natural gas demand.
Biden's climate plan also promises to "use every tool of American foreign policy to push the rest of the world to raise their ambitions alongside the United States." The plan not only commits to rejoin the Paris Agreement, but to host a global climate summit of major emitters, push for international agreements in shipping and aviation, embrace the Kigali Amendment to the Montreal Protocol, and push for a G20 commitment to ban fossil fuel subsidies.
The International Energy Agency's "Stated Policies" scenario is now less likely, and scenarios where global oil and gas demand slows are more likely. This means Canadian oil and gas companies will face tougher competition for pieces of a shrinking pie, where both cost and emissions-intensity will matter.
U.S. climate movement will create waves for Canadian business
As Canada's largest trading partner, U.S. implementation of ambitious climate policy would create both risks and opportunities for Canadian business. It would increase pressure to lower the greenhouse gas intensity of our exports. It would increase the size and competition of clean technology and product markets. And it would accelerate technological change that would lower the cost—and speed the pace—of global low-carbon transition.
Share of the Value of Canadian Exports by Partner (2019)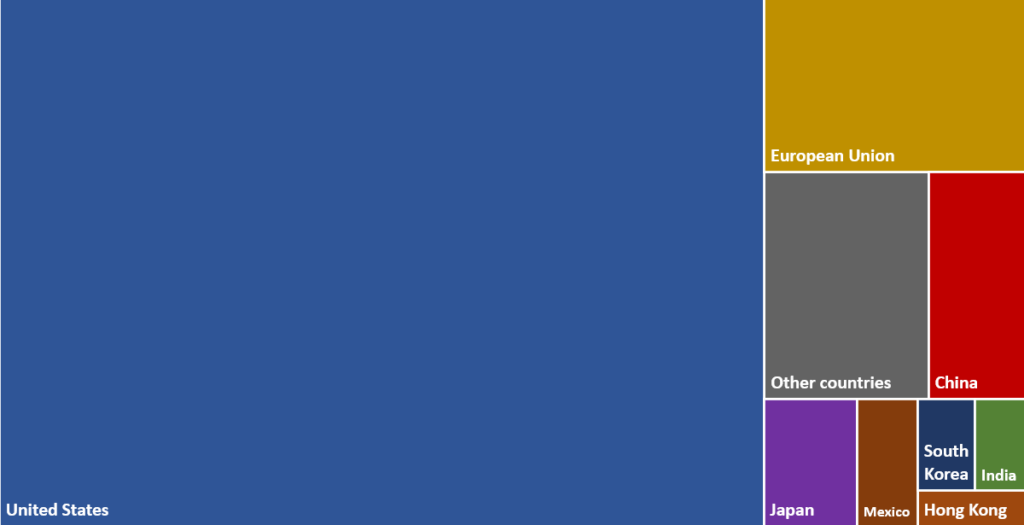 Source: Global Affairs Canada (2020), Canada's State of Trade 2020
For example, Biden's clean energy plan proposes to spend US$2 trillion over 4 years, with US$400 billion over 10 years to drive down tech costs and generate economic growth opportunities. The innovation funding covers a wide range of technologies (e.g., smart grids, green hydrogen, sustainable aircraft fuels, carbon capture and storage, and small modular nuclear reactors). For a sense of scale, US$40 billion ($Cdn 53 billion) per year is more than the Cdn$36 billion Canadian governments, businesses, universities, and non-profits spent on all types of research and development in 2019. While climate-related spending could face
challenges from a Republican Senate, there has generally been bipartisan support for research and development funding for clean energy technologies.
If all proposed spending moves forward, the scale of technology deployment would be massive. The plan would drive investment in renewable electricity, public transit, rail, electric vehicle charging, building efficiency, agriculture, manufacturing and more. And it would give financial incentives to firms upgrading their factories or supplying low-carbon solutions to the global market.
These changes could create opportunities for Canadian companies—in areas where they don't face Buy America provisions—but they would also increase U.S. competition in global markets. Canada is a potential source of goods and services, including low-carbon electricity, low-carbon minerals and metals, clean technology, engineering and technical services and hydrogen.
Aggressive new regulations could be an even bigger factor for Canada than spending, and many could move forward without Senate support. The Biden plan includes reducing methane emissions in oil and gas, accelerating zero emission vehicle purchases, ramping-up appliance and building efficiency standards, and mandating climate-related financial disclosure for operations and supply chains.
The regulations also promise to come with measures targeting trade directly such as border carbon adjustment fees or quotas, conditions on future trade agreements, and a push for hemispheric policy alignment from Canada to Chile. Canada may be ahead of the U.S. in some areas but we may need to catch up in others to avoid negative trade implications. It could be better for Canada to be in the US bubble than out.
Will Canadians have policy envy?
Biden's emphasis on skills, jobs, and environmental justice is different from what we've seen before in North American climate policy. Originating with the group behind the Green New Deal, initial resistance to the concept has grown into acceptance from Democratic moderates. In fact, the integration of economic and social goals may be key to overcoming long-held opposition to progress, while building a larger constituency of support.
These innovative approaches could inspire Canadians. Concepts such as matching skills training with infrastructure investments, creating a new class of jobs for climate-resilient industries, and generating new sources of jobs in communities facing the risks of low-carbon transition could help lay the groundwork for a smoother transition. Addressing environmental injustices such as pollution and climate impacts in low-income, Black, and Indigenous communities could also help broaden support.
Canada has no time to waste
Despite the lack of clarity on how quickly the U.S. will move, it is getting a whole lot harder to argue the status quo will hold. This turns up the pressure for Canada. Can we move forward with an equally ambitious clean growth plan that addresses climate, economic, and social objectives?
Note: A previous version of this blog was the subject of an opinion article in the Hills Time on November 3, 2020.
Sara Hastings-Simon is a senior researcher at the Payne Institute for Public Policy at the Colorado School of Mines, Research Fellow at the University of Calgary, and co-host of a new podcast series Energy vs. Climate. To hear more from Sara on this topic, tune into the next episode of the Energy vs Climate webinar and podcast where Sara, her co-hosts David Keith and Ed Whittingham, and special guest Dr. Leah Stokes, will break down what the results mean for Canadian energy.