It's an asset worth billions of dollars, and fully one quarter of the global supply is found right here in Canada: wetlands. Canada's wetlands are an under-appreciated jewel of our natural ecosystems, but little is known about just how valuable they are to both our ecosystem and economy. As a result, and perhaps because they lack the grandeur associated with forests or plains, they're often taken for granted. World Wetlands Day, February 2, is an opportunity to take a closer look at what they provide.
An ace up our sleeve
It's hard to overstate the value of services that wetlands provide to Canadians. They contribute billions of dollars to the economy, directly and indirectly. Flood control, water cleaning, fishing, and recreation are just some of the benefits derived from wetlands. Ecologically, wetlands filter air and water pollution so well that they have earned themselves the moniker of "earth's kidneys." Wetlands are valued differently across Canada depending on location, ecosystem habitats, available resources, and services provided. For instance, one study currently values a wetland in southern Saskatchewan based on the services it provides at $1.8 million per year with the potential of increasing to $2.5 million annually should it be fully restored.

Besides their massive economic and ecological benefits, wetlands are instrumental in our struggle against a changing climate. Peatlands, for example, cover three percent of the earth's surface but store twice as much carbon as forests. This means that Canadians can have a robust carbon mitigation strategy simply by protecting remaining wetlands. Conversely, if wetlands continue drying up, then not only will we lose our ability to sequester carbon, but stored carbon can be released back into the atmosphere—increasing our emissions.
The benefits of wetlands don't just stop at mitigation—they can also be used to adapt to climate change. Increased precipitation and extreme weather events are expected to worsen as the world warms. Incorporating wetlands into urban design can alleviate the need to develop expensive infrastructure and can be used to manage stormwater surges and even control coastal erosion. Wetlands can provide a natural and cost-effective adaptation tool, such as the Pelly Lake Watershed Management Project in Holland, Manitoba.
An asset at risk
Over 13 per cent of Canada (1.3 million km2) is classified as a wetland ecosystem; an umbrella term that includes marshes, swamps, bogs, and fens. Most wetlands are found in the Boreal Shield (25 per cent of Canadian wetland area), Hudson Plains (21 per cent) and Boreal Plains (18 per cent).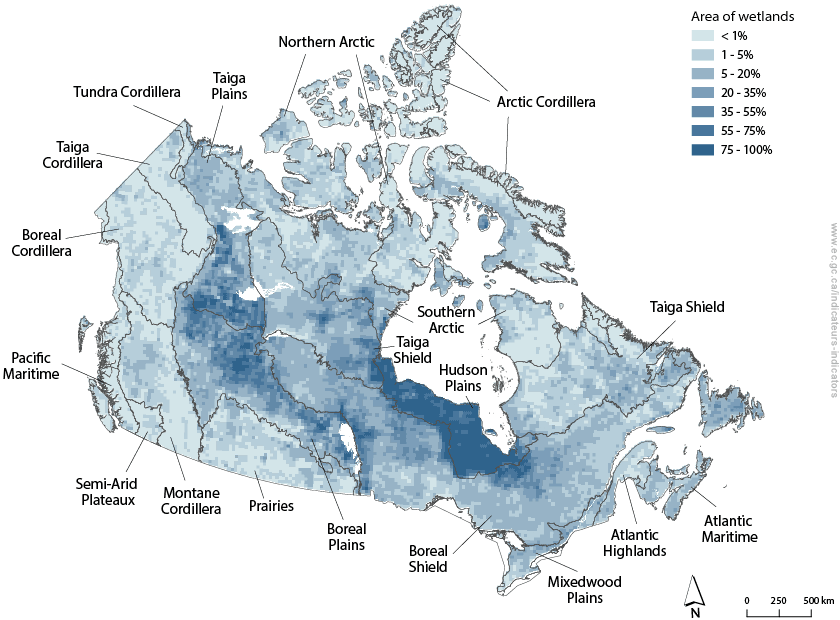 These figures seem vast, but the reality is that today wetlands are only a fraction of what they used to be. Many regions have lost over 50 per cent of their wetland ecosystems with that number reaching as high as 98 per cent for urban centres. Agriculture has destroyed up to 70 per cent of wetland ecosystems across the Prairies, along with built-up settlements and extractive industries. It wasn't until the 1980s, when the North American waterfowl population suddenly dropped, that governments began taking action to preserve their natural habitats.
Climate change now threatens wetlands further through increasing temperatures and changes in precipitation, along with increased frequency and intensity of storms. In particular, wildfires are of concern around peat bogs since peat is flammable and can release stored carbon back into the atmosphere. Water drainage, pollution, continued urbanization, and invasive species will continue putting our valuable resource at risk.
Protecting our remaining wetland assets
The benefits provided by wetlands have become clearer over time. In fact, if they're protected and well-managed, wetlands can actually appreciate in value over time, unlike engineered infrastructure that tends to depreciate with age.
Although Canada has lost a big chunk of its wetlands, efforts to protect and restore them are ramping up. To date, there are 37 protected wetlands spread across the country. Since 1986, over $2.5 billion has been invested in protecting Canada's wetlands through the North American Waterfowl Management Plan. Last year, the Federal government announced a further $10 million over two years to restore 10,000 hectares of wetlands.
These are steps in the right direction. With new and more intense threats to our wetlands, we must be more vigilant than ever to ensure the longevity of one of earth's most valuable assets. This is one swamp that shouldn't be drained.
Photo credit: Drew Brayshaw via Flickr, CC-by-NC-2.0