When the waters recede and everyone is out of harm's way, British Columbian homeowners will turn to their insurance providers to help cover the damage. In such dire times, the insurance industry plays an important part in the recovery, providing homeowners with financial stability and peace of mind over what is often their largest asset. But as climate disasters become more frequent and severe as B.C. has seen, Canada's insurance market is coming under increasing strain. That's bad news for homeowners across the country.
Right across Canada, the costs from extreme weather and climate-related disasters like floods and wildfires are growing rapidly, leading to higher payouts from insurers. As a result, insurance companies are increasingly limiting, or hiking rates for, the kinds of damages they'll cover, which could leave a large number of Canadians uninsured or with skyrocketing premiums. This blog considers what governments can do to protect homeowners from the perfect storm of rising insurance premiums and declining insurance coverage.
Increasing climate disasters, increasing costs
Climate-related disasters are on the rise in Canada, and they are getting costlier. As we highlight in our Tip of the Iceberg report, the average cost per disaster has jumped 1250 per cent since the 1970s.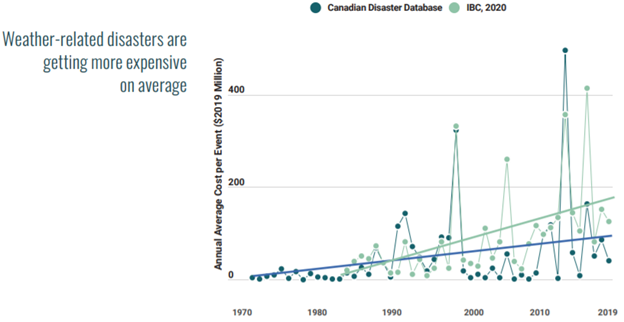 While not all of these costs can be fully attributed to a changing climate, climate change is already accelerating extreme weather worldwide and increasing risks almost everywhere—including Canada.
The costs of extreme weather will only get larger. For example, the Canadian Climate Institute's Under Water: The Costs of Climate Change for Canada's Infrastructure report recently highlighted that the annual costs of damage to homes and buildings from flooding in Canada could be three to four times today's costs by mid-century—amounting to over $5.5 billion. In British Columbia, these costs could be upwards of $820 million annually over the same period.
How much risk is too much risk?
The risks are becoming too great for the insurance industry to bear as weather-related insurance payouts are starting to exceed home insurance premiums collected by insurers. To protect their revenues, many insurance companies are increasing premiums. Average home insurance premiums rose by 140 per cent in Alberta since 2011 and by 64 per cent in Ontario over the same period. In areas where climate-related risks are very high or extremely uncertain, insurers may even stop providing coverage to homeowners entirely, decreasing competition, leaving fewer choices, and increasing prices.
Often seen as "insurers of last resort", the federal and provincial governments are also finding that the costs of providing public assistance for uninsured losses after climate-related disasters are skyrocketing. Since 2015, the federal government and some provincial governments have been modifying their disaster assistance programs to reduce the amounts they will pay out after a disaster. In the aftermath of unprecedented destruction, the B.C. government was forced to step in and cover for uninsurable property.
On the current trajectory, homeowners will increasingly be left without insurance and financial backstops when they need them most.
Those that can afford the higher premiums are left with fewer funds to adapt to the looming threats. Those who can't could be left with no protection and facing the full costs of rebuilding after a flood, wildfire, or other disaster. In B.C., just under half of policy holders are covered for flood damages while five per cent of homeowners are at too great a risk to access flood insurance. In other cases, homeowners may be unable to renew their mortgages if they can't find home insurance.
Renters are also at risk because they aren't in control of what happens to their homes. If landlords don't have adequate insurance to fix damage from extreme weather, renters can be left to live in unsafe conditions for weeks, months, or years. Compounding the risk, record levels of household debt overlay all of these pressures, leaving households less able to deal with sudden financial shocks. Adding it all up, it's clear that the insurance industry will not be able to solve this growing problem on its own. Governments will need to step in so that this gathering storm doesn't become a hurricane.
Long-term resilience and short-term risks
Canada's home insurance market is already showing that it's ill-prepared for a changing climate. As disasters become more frequent, more extreme, and less predictable, these gaps could become even bigger. Here are three major policy measures the federal, provincial, and territorial governments can implement in tandem to limit the risk to homeowners in Canada:
Accelerate adaptation investments where they're most needed in order to reduce climate-related risks. This is crucial not only to ensure private insurance remains accessible, but to protect all the infrastructure we depend on. For B.C., this could mean significant investments in dike infrastructure upgrades in the Lower Mainland, as 96 per cent of them are deemed too low. Municipalities don't have the necessary means to adapt at the required scale, or even maintain existing protection. Senior orders of government will need to pool capital to support them.
Discourage investments in risky real estate by producing and requiring disclosure of physical climate risks in real estate transactions and by institutional real estate investors. Publicly available flood maps are out of date, including in British Columbia. Wildfire and permafrost thaw information is also limited or non-existent. The federal government should take the lead in ensuring Canadians have the climate risk information they need when making major decisions like where to purchase a home.
Create safety nets to ensure that the most vulnerable homeowners can continue to access insurance that protects them from extreme weather events while governments work to minimize the risks of a warming climate. This could be a delicate balancing act between protection and creating a moral hazard. The National Flood Insurance Program (NFIP) managed by the United States federal government exemplifies potential pitfalls. In addition to protecting homeowners from flood risk, governments may also need to support homeowners who find themselves under water financially due to falling property values as housing markets adjust to new climate realities that put particular regions at higher risk.
Insurance is critical to a household's economic stability. It's supposed to provide peace of mind during tough times. Yet that stability is seriously threatened by a warming and increasingly volatile climate. The catastrophic flooding in B.C. is a devastating preview of Canada's climate future. Governments need to invest now to reduce our climate risks and take steps to ensure that insurance remains a viable part of how we recover from the climate impacts that we can't avoid.